Since we live in Tahoe we tend to talk about skiing and snowboarding A LOT in our classroom during the winter. Students come back to class super excited to tell us about their adventures on the hill; especially after a big storm or a school vacation. We spent the first week back from the Holiday Break talking about snow and ice sports, which is hard to find books, crafts, or preschool presentable info for – so we created our own craft! We think these little skiers and snowboarders turned out absolutely marvelous – they are so funny all in a group on the counter.  We also got to use some of our stash of empty glue stick caps (we used Avery) that we've been hoarding over the past year. They are perfect for making into finger puppets, or in this case, small figures on skis.
So here's how you can make your own awesome skiers and snowboarders:
Materials Needed:
– fabric scraps
– popsicle sticks (narrow for skis, or use giant ones for snowboards)
– Aleen's tacky craft glue (Elmer's would probably work fine)
– markers
– pom poms (you'll need a medium sized one for the head, and a giant one cut in half for the helmet)
– googly eyes
– foam craft sticks (or you could use a wooden one)
– empty cap to an Avery glue stick (or any other brand that has that shape cap)
– scissors to cut your fabric scraps & pom poms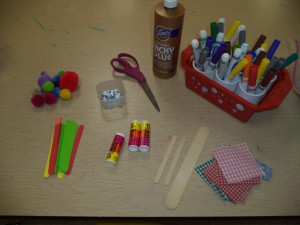 Here's how to make this craft:
1) Cut your fabric into squares and rectangles that will fit the height of the glue stick cap.  This will become your skier's clothes. We let students choose one or two different pieces.
2) Spread glue all over the outside of the empty glue stick cap
3) Wrap your fabric scrap around your gluey empty glue stick cap (this is getting close to a tongue twister).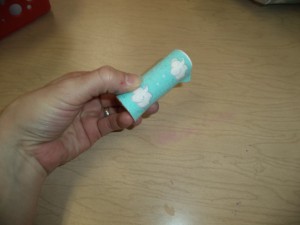 4)  Have students choose a medium sized pom pom for the head, and have them glue it on the top of the empty glue stick cap.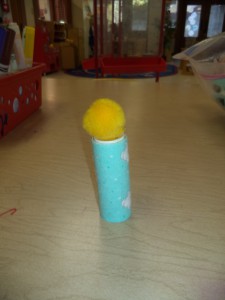 5) Glue on googly eyes (I suggest using a generous dot of glue because googly eyes don't like to stick to pom poms)
6) Have students put a dollop of glue in the middle of a foam craft stick (this will be the skier's arms) and have them put it in the middle of their skier's body.  Make sure you have them put it on the opposite side from where they placed the eyes.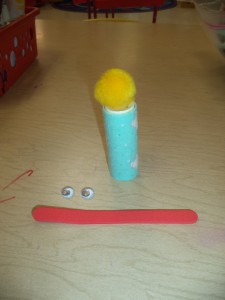 7) Cut a giant pom pom in half and  have students glue it on top of their head pom pom – we think this looks just like a hair helmet! (any Flight of the Conchords fans out there?…) It's important for us to teach the kids about helmet safety though – so we asked them to use their imaginations a bit. I think an acorn cap would have made the perfect helmet, but our bag of acorns was empty. 🙁   (Yes….we collect everything)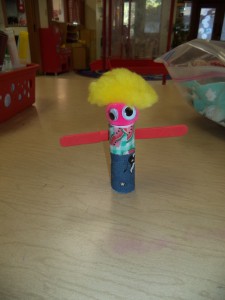 8) Have students choose skis or a snowboard and they can use regular class markers to decorate their sticks however they desire. Some students wrote their sames while others chose patterns or scribbling.
9) We glued the figures onto the popsicle sticks with hot glue. The teacher must do this part – hot glue is too hot for preschoolers to use on their own. You could use craft glue for this part if you want to wait longer for it to dry. We wanted to send these guys home to play though – so hot glue did the trick.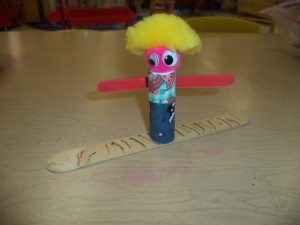 Ta-da! Your skiers and boarders are done. One little guy even added a beak to his skier so he could say "Look out!!!!"  We put some insta-snow  and a few big plastic blocks in the sensory tub and let the kids go nuts in their very own ski resort. They "rode" them all over the classroom until the end of the day. We had to replace a few hair helmets with extra glue as the day wore on and they continued to play with them, but all in all this turned out to be a huge crafting success!